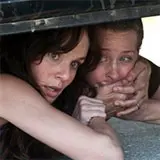 The Walking Dead begins a new journey tonight as AMC's hit zombie show begins a 13-episode second season following a hugely successful 6-episode first season debut.
When we last left Rick Grimes, Shane, and the rest of the zombie apocalypse survivors the show follows, the Center for Disease Control (CDC) in Atlanta was blown up by its last surviving employee, taking one of the group's crew with it. With their last feasible hope for a cure in flames, Rick leads the group away from Atlanta and into the back roads of Georgia.
In The Walking Dead: Season 2 premiere 'What Lies Ahead,' the group will come upon a massive vehicle pileup and seize the opportunity to scavenge the rows of car for any usable supplies after Dale's RV blows its radiator. What comes next has been alluded to in the preview images, trailers and clips you'll find below.
Before diving into The Walking Dead tonight, flush any fears that Frank Darabont's departure mid-season production will send Season 2 into a nosedive. The premiere isn't perfect, but it's full of the tension and high stakes that made the first season so fun to watch. It ends on a cliffhanger that will have you begging for next week's episode to begin immediately.
Here are some mostly spoiler-free facts about 'What Lies Ahead' to help get you ready and more psyched for the premiere:
The mysterious whisper in last season's finale will come up
Morgan and Duane aren't forgotten
Not everyone will survive the traffic pileup unscathed
There will be a pre-apocalypse flashback
Who wants to leave the group won't be who leaves the group
We'll be publishing our detailed review and recap of The Walking Dead: Season 2 premiere either later this evening or tomorrow. Be on the lookout for it.
The Walking Dead: Season 2 premieres tonight on AMC at 9pm EST/PST, followed immediately by The Talking Dead, a live after-show discussion forum.
After watching The Walking Dead trailers and clips below, head over to our extensive image gallery from the premiere episode.