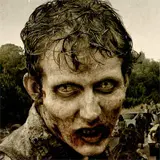 AMC has released a new teaser poster for The Walking Dead Season 2 designed specifically to lure potential victims err attendees to its Comic-Con booth in San Diego later this week.
The poster, which you could also call a banner, features the core cast atop the show's signature RV. Below them are scores of hungry zombies that aren't quite agile enough to get to their prey.
A first look at a clip from The Walking Dead Season 2 was released on Sunday night during the season 4 premiere of Breaking Bad. Check out the poster below (click to enlarge), and the season 2 clip here.
Source: EW