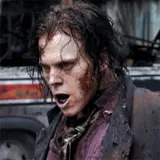 The Walking Dead got off to a running start last night as its 90-minute premiere drew 5.3 million viewers to bring Halloween weekend to a close (The Walking Dead premiere review).
The ratings, including 3.6 million in the coveted 18-49 demographic, set records at AMC and was the top premiere of any cable show this year. Neither Mad Men nor Breaking Bad, AMC's currently long-running top shows, have rated this high.
The Walking Dead's potential to blossom into an ongoing show past its initial six-episode run is very much alive. I'd be shocked if a second season was not ordered by this time next week after the second episode airs, if not sooner. There's a new supernatural player in town and it's hungry for more.