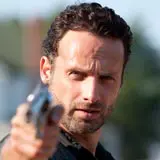 AMC has released the first four official stills from The Walking Dead episode 208 'Nebraska,' the Season 2 mid-season premiere.
Featured in the images are Dale (Jeffrey DeMunn) with Otis' truck loaded up with recently neutralized zombies, Rick (Andrew Lincoln) and Hershel (Scott Wilson) in a bar, Shane (Jon Bernthal) in deep thought, and Rick in the shot that will likely open the episode as he aims his gun at the camera.
These first stills from 'Nebraska' do not hint at the two newcomers set to join the show as revealed in a previously released clip. There could be more than two additional survivors about to cross the path of Rick's group, but two are definitely confirmed.
Click on any of The Walking Dead 'Nebraska' stills below to view the high resolution version. 'Nebraska' premieres Sunday, February 12 on AMC.