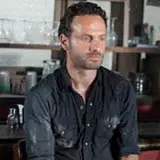 The Walking Dead news is coming at a fast and furious clip as the countdown to the second season mid-season premiere crosses the one month mark.
Yesterday AMC announced at the Television Critics Association (TCA) winter press tour that the third season of The Walking Dead will run sixteen episodes, three more than the current second season. AMC also confirmed the Sunday, February 12 mid-season premiere date as well as premiere dates for The Killing Season 2 and Mad Men Season 5, but refused to speak specifics as to what the final episodes of The Walking Dead Season 2 will include.
Just prior to the TCA announcement, AMC took to their blog and revealed The Walking Dead mid-season poster. It features Rick Grimes (Andrew Lincoln) aiming his gun dead ahead, reminiscent of the moment he raised his weapon and put an end to Sophia's zombie existence. Check out the poster below.
AMC also revealed that during tonight's Hell on Wheels finale, a special sneak peek of The Walking Dead will air from the mid-season premiere, 'Nebraska.' More specifically, this sneak peek will serve as the first introduction to "new survivors about to enter Rick's world."
I'll share The Walking Dead sneak peek after it debuts later this evening.