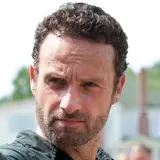 Tonight's episode of The Walking Dead, the seventh of thirteen this second season, marks the show's mid-season finale until its return in February 2012.
The creative team behind The Walking Dead knew when the mid-season finale would fall, and wrote the episode titled 'Pretty Much Already Dead' with the upcoming hiatus in mind. The episode is designed to bring closure to plot threads that have been dangling throughout the second season's first half, as well as set a new direction for where the show will head in 2012.
To help tease 'Pretty Much Already Dead,' I have an over three-minute clip and the promotional trailer for you to view below. In addition, there's a handful of images from the episode that will help paint a picture of what's to come.
The clip features Rick pleading to Hershel for him and his crew to stay at the farm, an idea Hershel is set against. Rick even plays the pregnant wife card to no avail, learning the hard way that it will take a different kind of negotiation tactic to earn Hershel's trust and willingness to let them stay.
The Walking Dead Season 2 mid-season finale airs tonight at 9pm EST/PST on AMC.