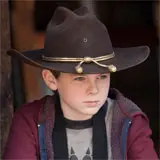 As we enter the second-to-last episode of The Walking Dead this second season, the blood of a core cast member from the show's pilot is still fresh on everyone's mind. If spoilers around the Internet are to be believed, the last episode was only a primer for what's about to go down tonight. Mild spoilers based on AMC approved clips follow.
The fate of Randall looks like it will take a step toward resolution as he gets free from his shed imprisonment which triggers a massive manhunt. From one clip below, T-Dog looks to play an integral role in this plot thread and gets more face time and dialogue in the clip than the previous three episodes combined. Shane, Rick, Andrea and more will be on the hunt for the young man.
Meanwhile, the swamp Walker's appearance at Hershel's Farm and subsequent rendezvous with Dale has put everyone on alert. Rick orders the Farm be on lockdown as the dead cow left by the Walker is sure to attract some of his undead friends.
The character to keep an eye on this week is Carl. Since Sophia's death, he's transformed from an innocent kid recovering from a gunshot wound to the chest to a kid accepting and wanting to play within the new apocalyptic world. Carl is growing up, and not exactly like how his parents want him to.
Enjoy these The Walking Dead episode 212 'Better Angels' clips and images below. We'll check back with a full review either Monday or Tuesday, as well as sneak peeks at The Walking Dead season finale.
The Walking Dead episode 212 'Better Angels' premieres tonight at 9/8c on AMC.