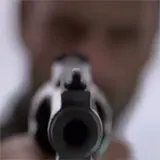 The Walking Dead ended the first part of its second season with a bang – literally – as Rick stepped forward and did what no one else in his group was willing or able to. Spoilers follow so proceed at your own risk.
The search for Sophia came to a tragic end in 'Pretty Much Dead Already' after Shane lost his cool upon seeing Hershel and Rick steering captured Walkers toward the barn. He proved to Hershel the Walkers were not human anymore by unloading several slugs into the chest of one, cut open the barn door, lined up his pupils with their guns, and executed the Walkers as they slowly stumbled into the daylight to their demise.
The final Walker to emerge was none other than poor little Sophia, capping a seven-episode search for the lost girl that cost one man his life and nearly cost another, the only one willing to do the right thing by Sophia when push came to shove, his son.
Now we have to wait until Sunday, February 12 for episode 208 'Nebraska' to pick up where Rick's shot left off. From the preview clips and footage below, we learn Shane believes Hershel knew Sophia was in the barn. Hershel, meanwhile, denies it and suggests Otis put the girl in there before he was killed.
The rift between Rick and Shane will grow wider as Shane tells Rick that he's just as delusional as Hershel. Hershel, meanwhile, wants Shane off his property immediately. In Hershel's mind, Shane just murdered his wife, son, and other friends and family. Something has to give.
The Walking Dead 'Nebraska' clip is broken into two parts as that's the only way I could find it. Following the clip is a 30-second promo spot.