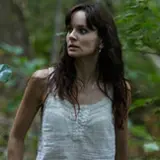 AMC's The Walking Dead comes off its ratings shattering premiere episode last Sunday with an expanded cast in the new episode 'Guts.'
In this 'Guts' preview clip, Rick (Andrew Lincoln) stumbles onto a small band of zombie survivors who don't exactly welcome him with opens arms. Their current predicament is due to Rick's unintentional actions.
I've also got a couple preview images featuring Glenn (Steven Yeun) and Rick on the run from a zombie brigade, as well as Rick's wife Lori (Sarah Wayne Callies) looking startled in the woods.
The Walking Dead episode 102 'Guts' premiere tonight at 10/9 central on AMC.