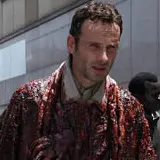 Last night's strong performance by The Walking Dead coupled with an equally strong premiere episode a week ago has convinced AMC to order a 13-episode second season for the zombie powerhouse.
The second episode, 'Guts,' pulled in 4.7 million total viewers last night, a small drop from the premiere's 5.3 million total viewers. When breaking down the numbers, 'Guts' outperformed the premiere for male adults 18-49 by 2.1 million versus 2 million viewers. The overall adults rating for 'Guts' of 3.3 million viewers was not far from the 3.6 million the premiere drew. The Walking Dead is currently reaching more adults 18-49 than any cable television show ever.
There are currently four episodes left in season one of The Walking Dead. The survivors of those episodes will likely figure into season two which would need to begin production sometime in the spring to meet a fall launch.
Read our The Walking Dead Episode 2 'Guts' Review, or pre-order The Walking Dead: Season One on Blu-ray at Amazon.com.