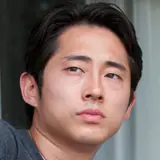 During last night's episode of The Walking Dead, Glenn went from the man spying the farmer's daughter through binoculars to the man getting naked with the farmer's daughter in an abandoned pharmacy in a matter of hours. Though Glenn just got lucky, he's been getting a bad vibe from all the ladies in the group.
In this new The Walking Dead clip from next Sunday's episode 'Chupacabra,' Glenn (Steven Yeun) confides in Dale (Jeffrey DeMunn) about why he thinks all the women are acting strangely. It's the type of theory you'd expect from Glenn, one of the youngest in the group and often the source of comic relief whether his character intends it or not.
Glenn also tells Dale about his deed, and why he went through with it. Aside from the fact that Maggie practically threw herself at him. Dale immediately warns that sleeping with their host's daughter was probably not a good idea.
I also have the nearly 40-second promo spot for 'Chupacabra' that aired last night. Will what looks like a walker approaching Hershel's Farm amp up the action a little? Right now, the Internet is abuzz with complaints about the pace which has slowed to a crawl since the season opener.
The slow burn tells me that The Walking Dead is building up toward something big. Whether that involves finding Sophia or not, I don't know. Long lapses in large-scale zombie attacks tell me something big is brewing.
The Walking Dead 'Chupacabra' airs this upcoming Sunday at 9pm EST/PST on AMC. My fingers are crossed that the pace picks up a little.