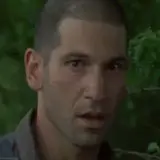 When we last left Shane in The Walking Dead, he had freshly shaved his head to cover a wound after making a tough life and death decision that left Otis to die.
In the next episode, 'Cherokee Rose,' Shane must eulogize fallen Otis while flashes of the murderous act that led to Otis' demise flood his mind. He can't tell the truth, so Shane does the only thing he possibly can given the circumstances: lie.
Pay close attention to Shane's eulogy speech in the new clip below. More specifically, watch Dale's reaction to Shane's expressions and delivery. Does Dale suspect that Shane is full of crap? It sure looks like he does, which could make for an interesting dynamic between the two moving forward.
The fourth episode of The Walking Dead airs this upcoming Sunday, November 6 at 9pm EST/PST. Read our review of the previous episode if you haven't already, and join in on the discussion.