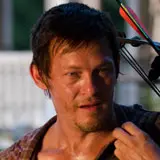 The Walking Dead has reached a point in Season 2 where the cliffhangers are gone and only uncertainty remains. The survivors are congregating at Hershel's Farm, begging the question, "now what?"
What we do know about tonight's The Walking Dead episode 'Cherokee Rose' is that newly bald Shane (Jon Bernthal) will be forced to eulogize Otis, Glenn (Steven Yeun) will get some alone time with Maggie, and Daryl (Norman Reedus) will arrive at the farm and find cause to draw his weapon while on the porch.
Since its introduction in 'Bloodletting,' Hershel's Farm has been portrayed as a type of utopia where the fear of zombies does not exist. None of the windows or doors are boarded up, there's running water and electricity, and Maggie and Glenn will be partaking in a casual horse trot on the property like they're in an episode of Little House on the Prairie.
This calmness leads me to believe that the season is currently approaching the storm. The complacency observed at Hershel's Farm reminds me of the nighttime attack in Season 1. When everyone is at their most vulnerable is usually when tragedy strikes.
Below is a clip, promo trailer, and several images from 'Cherokee Rose' to get you primed. Tune in tonight at 9pm EST/PST to watch this latest episode of The Walking Dead.