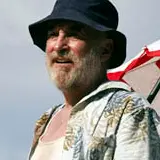 Former The Walking Dead star Jon Bernthal will see a couple familiar faces on the set of former The Walking Dead showrunner Frank Darabont's new TNT pilot L.A. Noir.
TV Guide has confirmed that Jeffrey DeMunn, known as hat-wearing and RV-driving Dale on The Walking Dead, is joining the cast of L.A. Noir as a regular after becoming zombie fodder on AMC's hit show last season. DeMunn will play Hal Morrison, a top detective at LAPD's mob squad and co-worker of Bernthal's cop character Joe Teague.
Per THR, Joining Bernthal and DeMunn in a guest-starring capacity is Andrew Rothenberg, better known as Jim from The Walking Dead: Season 1. He'll play Eddy Sanderson, a man of the law under Hal's command.
L.A. Noir is based on the novel L.A. Noir: The Struggle for the Soul of America's Most Seductive City by author John Buntin. The book chronicles over a decade worth of animosity and clashes between the LAPD and the city's top criminals. Heroes star Milo Ventimiglia co-stars in the pilot, which is expected to be pitched to TNT executives for a potential series pickup later this month.