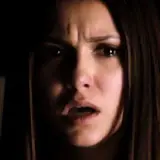 The Vampire Diaries takes a turn toward the undead in the Season 4 premiere as one of its core cast awakens after a deadly accident in the Season 3 finale.
In the following The Vampire Diaries clip, the first released for the upcoming fourth season, Elena first awakens after the accident and comes to grip with why she's sitting up in a bed and not buried six feet under. Needless to say she's not too thrilled with the circumstances.
Lucky for her, Stefan (Paul Wesley) and Damon (Ian Somerhalder) at right there at her bedside to help her through the transition from living to undead. Unless there's a way for her to get out of the whole mess since the full vampire effect takes 24 hours to set in. Expect that little loophole to be explored to its fullest.
The Vampire Diaries returns to The CW on Thursday, October 11 with the Season 4 premiere.