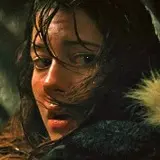 There's something in the ice and it doesn't play nice in this first trailer for The Thing, a prequel/remake of the John Carpenter 1982 sci-fi horror classic.
After watching the trailer below you might question whether The Thing is more prequel or remake. The events of the film are set before those of Carpenter's. However, the scene construction and beats make it look more like a modern-day remake that swapped in a female lead. We've seen enough of those flop, so hopefully there's more to The Thing than this trailer lets on.
You may recognize several faces that will face the terror of The Thing including Mary Elizabeth Winstead (Scott Pilgrim Vs. the Word), Joel Edgerton (Star Wars: Episode III – Revenge of the Sith), Eric Christian Olsen (NCIS: Los Angeles) and Adewale Akinnuoye-Agbaje (Lost). I'm guessing at least two of those will bite the dust before the credits role.
The Thing will look to offer up a throwback and a leap forward when it debuts in theaters on October 14. The original is already available on Blu-ray for under $10 at Amazon.com.