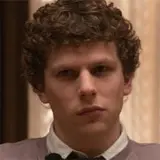 On the same day Time Magazine has named Facebook CEO Mark Zuckerberg their Man of the Year, Sony Pictures Home Entertainment has announced the film based on how he founded Facebook, The Social Network, is coming to Blu-ray Disc and DVD on January 11, 2011.
David Fincher's The Social Network stars Jesse Eisenberg as Zuckerberg along with Andrew Garfield (Spider-Man), Justin Timberlake, Armie Hammer and Max Minghella. It's a frontrunner to nab the Best Picture award at the 2011 Golden Globes and Oscars within the next few months.
The Blu-ray edition of The Social Network will span two discs and include a bevy of bonus features as outlined below.
Disc One
Commentary with David Fincher
Commentary with Aaron Sorkin and Cast
Disc Two
How Did They Ever Make a Movie of Facebook? Feature-length documentary
Angus Wall, Kirk Baxter and Ren Klyce on Post
Trent Reznor, Atticus Ross and David Fincher on the Score
In the Hall of the Mountain King: Reznor's First Draft
Swarmatron
Jeff Cronenweth and David Fincher on the Visuals
Ruby Skye VIP Room: Multi-Angle Scene Breakdown
Pre-order The Social Network on Blu-ray for $24.49 (30% off the $34.95 list price) at Amazon.com.