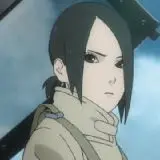 Ghost in the Shell's famed anime director Mamoru Oshii's latest release The Sky Crawlers has been cleared to take flight on Blu-ray Disc and DVD on May 26.
The Sky Crawlers is about "a group of eternally young fighter pilots known as Kildren who experience the sudden loss of innocence as they battle the enemy in astonishing dogfights above the clouds." A trailer has been embedded below.
Sony is presenting the unusually muted colors of The Sky Crawlers in 1.78:1 1080p video and audio in 5.1 Dolby TrueHD in Japanese and English.
Bonus features includes a Blu-ray exclusive interview with Director Mamoru Oshii as well as a pair of featurettes: Animation Research for The Sky Crawlers, and The Sound Design and Animation of The Sky Crawlers.
You can currently pre-order The Sky Crawlers on Blu-ray for $24.49 from Amazon.com by clicking here.