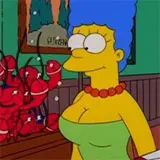 Fox is rewarding us foolish earthlings on December 6 with the Blu-ray and DVD release of The Simpsons: Season 14.
Lending their voices to The Simpsons: Season 14 are Tony Hawk, Mick Jagger, Keith Richards, Lenny Kravitz, Tom Petty, Elvis Costello, Brian Setzer, Elliott Gould, Marisa Tomei, Little Richard, Adam West and Burt Ward. The season includes the 300th episode featuring Hawk along with Blink-182.
The Simpsons is currently in its 23rd season and, as of earlier this month, is under contract for at least two more seasons. Seasons currently available on Blu-ray include 12 and 13.
A partial list of bonus features that will appear on The Simpsons: Season 14 Blu-ray and DVD include deleted scenes, features and never-before-seen footage, audio commentaries, sketch galleries, original animated menus, and a special language feature.
Click here to pre-order The Simpsons: Season 14 on Blu-ray for $38.99 at Amazon.com, 35 percent off the $59.99 list price.