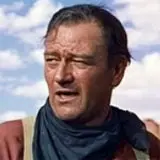 The Searchers on Blu-ray Disc starring John Wayne is currently on sale at online retailer Amazon.com for a measly $7.99.
The limited low, low, low price has vaulted The Searchers into Amazon's top 10 hourly bestsellers chart for Blu-ray where it currently enjoys the number 8 slot.
Click here to grab The Searchers on Blu-ray for $7.99.
Strong sales for The Searcher have pushed back the shipping date to 7-13 days. That's better than the title being sold out entirely, which is possible if this price holds up for a few days.
Some other Blu-ray titles heavily discounted at Amazon include I, Robot and Dark City for $12.99 each.