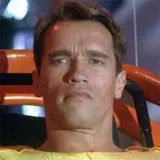 Lionsgate Home Entertainment will add to its Blu-ray catalog on February 9 when they debut The Running Man with Arnold Schwarzenegger, The Phantom with Billy Zane, Drop Zone with Wesley Snipes and Hard Rain with Morgan Freeman in high definition.
All four action flicks will be presented in 1080p video with their native aspect ratios. Drop Zone will include 5.1 DTS-HD Master Audio while the other three get a bump up to 7.1.
Only The Running Man is given bonus features that include an audio commentary with Director Paul Michael Glaser and Producer Tim Zinneman; a second commentary with Executive Producer Rob Cohen; a pair of featurettes and the theatrical trailer.
As with the latch batch of Lionsgate catalog films, the SRP is set low at $19.99 with an expected on-shelf price under $15. I am currently tracking down cover art and will pass along once located. In the meantime, here is the official synopsis for each in case your memory is a bit fuzzy.
The Running Man
The year is 2019. Television is now ruling people's lives. The most popular reality show is called "The Running Man" featuring convicts who compete to defeat murderous henchmen known as "stalkers" to win pardon. The next contestant on the show is Ben Richards, a prisoner wrongly convicted of murdering hundreds. When Ben faces off against four of the most brutal stalkers, he begins the fight of his life and leaves the entire country glued to their television sets.
Hard Rain
In the worst storm in living memory, one guard stands between five men and three million dollars. Severe flooding threatens an Indiana town after a massive rainstorm taxes dams to the breaking point. As part of an emergency evacuation effort, armored car driver Tom and his uncle Charlie are recruited to collect cash from the town's banks and drive it to safety. However, a gang of thieves led by Jim plan to lay siege to the truck and steal the $3 million on board. After Jim attempts to ambush the truck, Tom hides the cash and reports the attempted theft to the local sheriff. However, the sheriff's lack of honesty soon becomes apparent; he puts Tom in a lockup and sets out to take the money for himself. As the flood waters rise, Tom has to escape from jail if he is to save both the townspeople's savings and his own life. Meanwhile, Jim and the sheriff are locked in a race to see who can find the $3 million first.
Drop Zone
Pete Nessip is a Federal Marshall who, teamed with his brother Terry, is escorting criminal computer genius Earl Leedy to a new prison facility. Pete, Terry and Earl are on a jet en route to Earl's new lockup when terrorists attempt a daring hijacking. Terry is killed in an explosion aboard the plane, and suddenly Earl is missing. Pete discovers that a team of sky-diving outlaws, led by former DEA agent gone bad Ty Moncrief, have snatched Earl from his flight and spirited him away for a special raid on Washington D.C. Ty and his men intend to take advantage of an obscure rule in which the normally restricted airspace in Washington D.C. is open to parachute enthusiasts on July 4. Eager to avenge his brother's death and put both Ty and Earl behind bars, Pete recruits sky-diving expert Jessie Crossman to teach him how to infiltrate Ty's team of sky-bound criminals.
The Phantom
Kit Walker discovers that he's the 21st in a line of purple-clad African superheroes known as "The Phantom" or, to superstitious Bengalla Island natives, "the Ghost Who Walks." As Kit learns how to deal with his other identity he find outs that Xander Drax, a slimy industrialist, is plotting to take over the world by uniting the three long lost magical Skulls of Touganda. So he travels to New York, where he finds allies in crusading newspaper publisher Dave and his niece, Diana, who's also Kit's ex-girlfriend. Kit and Diana tackle Drax's forces, including the conflicted Sala, in a quest for the Skulls that brings both sides back to Bengalla for a showdown.