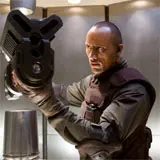 Universal Studios Home Entertainment will dip into their HD DVD catalog once again and deliver a pair of Dwayne "The Rock" Johnson action flicks on Blu-ray Disc, along with a Collection of films starring the former wrestler.
The two now former HD DVD exclusives, The Rundown and Doom: Unrated, will be available on February 10. Each will be presented in widescreen 2.35:1 1080p video and 5.1 DTS-HD Master Audio.
Universal is playing to the Playstation 3 crowd with these titles by including a PS3 controller user guide in the menus. Other features are outlined below, including BD-Live on Doom.
Doom's Bonus Features:
Playstation 3 Controller (Static User Guide)
Basic Training
Rock Formation
Master Monster Makers
First Person Shooter Sequence
Doom Nation
Game On!
BD Live – Download Center
BD Live – My Scenes Sharing
The Rundown's Bonus Features
Playstation 3 Controller (Static User Guide)
Deleted Scenes
Rumble in the Jungle
The Amazon, Hawaii Style
Appetite For Destruction
The Rundown Uncensored
Running Down the Town
Walken's World
Feature Commentary with The Rock and Director Peter Berg
Feature Commentary with Producers Kevin Misher and Marc Abraham
Both Doom: Unrated and The Rundown will be packaged together with the previously released Scorpion King on Blu-ray Disc to comprise The Rock Collection. This will also be available on February 10.
Doom: Unrated and The Rundown on Blu-ray will carry an SRP of $29.98. The Rock Collection will retail for $69.98.
Check back regularly for high resolution cover art and pre-order information for all three Rock Blu-ray releases.
Discuss The Rock's Blu-ray barrage in this dedicated HDR Forums thread.