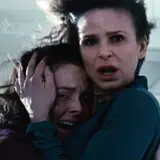 Labor Day weekend concluded the summer 2012 box office season with a whimper rather than a bang. Lionsgate's The Possession took over the number one spot from fellow Lionsgate release The Expendables 2, while The Weinstein Company's Prohibition thriller Lawless starring Shia LaBeouf landed in second. Neither film made much of an impression however as the North American box office delivered a holiday weekend haul roughly 17% less than the same weekend a year ago.
Produced by Sam Raimi and featuring Jeffrey Dean Morgan and Kyra Sedgwick, The Possession opened on 2,816 screens Friday and earned an estimated $17.7 million. The horror film is based upon a box of wine? possessed by a demon. I have always been against wine in a box so maybe I was on to something here. Anyway, the movie opened on Friday and did something that few movies in its genre do: see its grosses go up the following day. This could be an indication that Lionsgate was also onto something good here and delivered a horror film that people genuinely like.
The R-rated Prohibition drama Lawless got a head start on the competition by opening last Wednesday. Given the time of the season, it managed to pull in a mediocre $2.1 million in its first two days prior to earning an estimated weekend haul of $9.7 million from 2,888 theaters. It is directed by John Hillcoat (The Proposition, The Road), written by Nick Cave and starts Tom Hardy, Jessica Chastain, Gary Oldman, Guy Pearce, Mia Wasikowska and Shia LaBeouf. Speaking of Mr. Hillcoat and Mr. Cave, if you haven't seen The Proposition yet, do so. It's easily one of the best films released in the past decade.
Sylvester Stallone and his friends continued to show some muscle in third place as Lionsgate's hit sequel The Expendables 2 earned an estimated $8.8 million from 3,334 theaters in its third weekend. To date, the movie has earned $66.2 million and is still on track to earn between $85-90 million from its domestic run.
Universal's The Bourne Legacy held on to fourth position this weekend as the Jeremy Renner action flick earned an estimated $7.2 million to bring its total to $96.2 million. The sequel/reboot will pass the century mark within the next day or so.
Rounding out the top five was the 3D animated feature ParaNorman with an estimated $6.6 million. To date, the family-friendly animated spooky flick has earned a decent $41 million.
The remainder of the top ten was as follows:
6. The Dark Knight Rises (Warner) $6.2 million; $432 million to date
7. The Odd Life of Timothy Green (Disney) $6 million; $36 million
8. The Campaign (Warner Brothers) $5.7 million; $72.5 million
9. 2016: Obama's America (Rocky Mountain) $5.7 million; $19 million
10. Hope Springs (Sony) $4.7 million; $52 million
Next weekend looks to be another sluggish box office affair with The Words and The Cold Light of Day vying for some post-summer dollars and taking a shot at toppling The Possession from its current perch.
– Shawn Fitzgerald