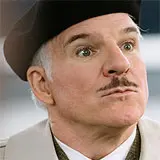 Sony Pictures Home Entertainment has revealed the final disc specs, extra features and cover art for The Pink Panther 2006 remake on Blu-ray Disc.
The Pink Panther on Blu-ray will be presented in widescreen 1.85:1 1080p video and 5.1 Dolby TrueHD audio.
Extras have been ported over from the previous DVD release in standard definition with the added bonus of an all-new Blu-ray exclusive. The full list is as follows.
CODE PINK animated graphics-in-picture track featuring an animated Pink Panther (Blu-ray exclusive)
11 deleted and extended scenes w/optional director's commentary
Beyonce music video "Check On It"
Cracking the Code documentary
Three featurettes
Commentary with director Shawn Levy
Extended Beyonce Performance "A Woman Like Me" with optional commentary
The Pink Panther on Blu-ray will retail for $28.95 and arrive in stores on January 20.
Click here to pre-order The Pink Panther on Blu-ray for $20.95 from Amazon.com.