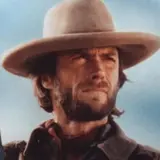 Clint Eastwood in The Outlaw Josey Wales is riding onto Blu-ray Disc for the first time on June 7 to coincide with Father's Day.
Warner Bros. is bringing the Eastwood classic to Blu-ray in their premium digi-book packaging which includes a 32-page book with film information and photos. Also newly created for the release is a documentary featuring Eastwood, Morgan Freeman and Oliver Stone, as well as a commentary track with Richard Schickel.
Carrying over from numerous DVD versions are a pair of vintage featurettes: Eastwood in Action and Hell Hath No Fury.
The Outlaw Josey Wales on Blu-ray has SRP pricing set at $34.99. Scroll below for multiple looks at the cover art.