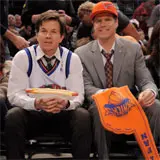 Will Ferrell and Mark Wahlberg proved a more potent buddy cop box office combination than Bruce Willis and Tracy Morgan on Friday as The Other Guys took in an estimated $13.2 million its opening day, easily enough for the top spot ahead of Inception and Step Up 3D. Willis and Morgan debuted to $5.9 million back in February.
The Other Guys is on pace to rack up around $35 million through Sunday which would make it the second most successful opening for Ferrell behind $47 million from 2006's Talladega Nights. It's strength is a sweet victory for Ferrell who last underwhelmed audiences in Land of the Lost.
In second place on Friday was Step Up 3D with $6.6, followed by Inception at $5.5 million. By the time Sunday rolls around, Inception is expected to leapfrog Step Up 3D and finish the weekend with around $19 million versus $16 million for Disney's dance extravaganza.
Check back tomorrow for the complete weekend box office estimates. The finalized numbers will be released Monday afternoon.