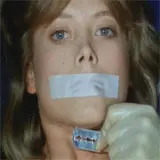 Italian director Lucio Fulci's controversial investigative slasher The New York Ripper is coming to Blu-ray Disc and DVD on September 29 courtesy of indie publisher Blue Underground.
The raw and bloody 1982 cult classic comes to Blu-ray in its original 2.35:1 aspect ratio with 1080p video and Blue Underground's signature double audio dip: 7.1 DTS-HD Master Audio and 7.1 Dolby TrueHD.
The New York Ripper bonus features include"I'm an Actress!" – Interview with Zora Kerova; NYC Locations Then and Now; and the Theatrical Trailer
Retail list pricing for The New York Ripper on Blu-ray has been set at $29.95. Check out the cover art below and keep an eye on our Amazon Blu-ray Pre-order page for on-shelf pricing.