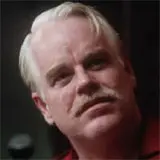 Paul Thomas Anderson's period film The Master starring Phillip Seymour Hoffman, Joaquin Phoenix, Amy Adams and Laura Dern will make its Blu-ray and DVD debut on February 26, 2013.
The Master has been nominated for three Academy Awards including Best Actor (Phoenix), Best Supporting Actress (Adams) and Best Supporting Actor (Hoffman). It was released wide theatrically on September 21 and has earned just over $16 million at the domestic box office and $20.5 million worldwide.
Paul Thomas Anderson filmed The Master in 65mm which should look fantastic on Blu-ray in 1080p video. The disc will also boast 5.1 DTS-HD Master Audio along with these bonus features:
Back Beyond – outtakes and additional scenes edited to music by Johnny Greenwood
Unguided Message – an 8 minute short / behind the scenes
Teasers/ Trailers
Let Their Be Light (1946) – John Huston's landmark documentary about WW-II veterans
DVD version included
View The Master Blu-ray cover art below.
Click here to pre-order The Master on Blu-ray for $27.86 at Amazon.com, 30% off the $39.99 list price.