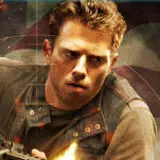 Fox and WWE's "The Marine" direct-to-video franchise will continue onward on March 5, 2013 with the Blu-ray and DVD release of The Marine 3: Homefront.
Starring WWE wrestler Mike "The Miz" Mizanin, Neal McDonough (Justified) and Ashley Bell (The Last Exorcism II, The Marine 3: Homefront follows Sgt. Jake Carter (The Miz) on leave to his hometown where he discovers terrorists have kidnapped his sister. He goes after the terrorists Rambo-style, only to learn their plans extend far beyond his sister's abduction.
Bonus features in this release include:
Shipwrecked: Breaking Down the Boat
The Miz Rocks the Boat
The Miz Declassified
Casting Call: Ready to Enlist
Miz Journal
Watch the The Marine 3: Homefront trailer and check out the Blu-ray cover art below.