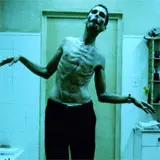 If you haven't seen The Machinist yet, you should. Paramount will give you an opportunity for that virgin viewing in high definition on May 19 when The Machinist is released on Blu-ray Disc with a retail price of $29.99.
In The Machinist, Christian Bale makes the ultimate sacrifice for a role by emaciating his body to an extent previously unfathomable for a role. His physical transformation into a man who hasn't slept in a year has to be seen to be believed.
The Machinist will make its way to Blu-ray with a 1.85:1 1080p video transfer and 5.1 Dolby TrueHD audio.
Bonus features should be identical to those found on the previously released DVD but we won't know for certain until Paramount makes an official announcement. When that news comes, along with cover art and Amazon pre-order information, we'll be sure to pass it along.