Lego will expand its movie-based line of buildable toys with the introduction of six sets from Disney's The Lone Ranger starring Johnny Depp and Armie Hammer. This license has been previously teased but became official today via a press released timed to coincide with the kick-off of Toy Fair 2013 in New York City.
Disney is no stranger to working with Lego on construction sets having previously worked together on The Pirates of the Caribbean films. The introduction of Johnny Depp as Tonto in The Lone Ranger line will be able to join Depp as Captain Jack Sparrow in April when the first sets are expected to arrive in stores.
The six sets will span in price from $12.99 all the way up to $99.99, reserved for the Constitution Train Chase. This huge set was revealed by Yahoo! earlier this morning and includes a four-car train, train tracks, water tower, and seven minifigures: John Reid/The Lone Ranger (Armie Hammer), Tonto (Johnny Depp), Rebecca Reid (Ruth Wilson), Danny Reid (James Badge Dale), Butch Cavendish (William Fichtner), Latham Cole (Tom Wilkinson) and Captain Jay Fuller (Barry Pepper).
There are some plot spoilers in the official set description below so read at your own risk.
The chase is on to save Rebecca and Danny from Butch Cavendish and his gang of henchmen onboard the speeding train, Constitution! Help Tonto to place the dynamite and blow up the water tower to stop the speeding train in its tracks! Ride to the rescue with the Lone Ranger alongside on his trusty horse, Silver. Jump aboard the highly detailed locomotive with 3 cars and dodge the gatling gun! Uncover the secret coal wagon hideout, blow the prison wagon door with the dynamite and escape to safety with Rebecca and Danny!
Lego is also expected to reveal more sets from their upcoming Man of Steel line and possibly announce sets based on Wolverine.
More Lego The Lone Ranger set images will be surfacing over the next few days as Toy Fair kicks off and Lego opens up their showroom.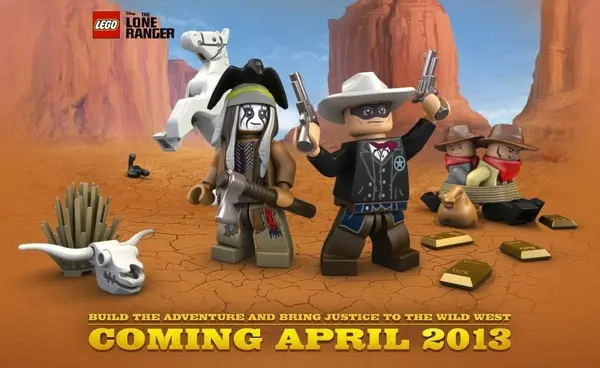 Source: Yahoo!