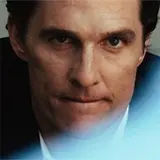 The Lincoln Lawyer made the jump from printed page to the big screen with Matthew McConaughey in the starring role. Sensing the film's success and appeal and apparently in need of a legal procedural, ABC wants to bring the talented lawyer to the small screen.
Per Variety, ABC has ordered a pilot script from Lionsgate that would turn The Lincoln Lawyer into a television series. Lakeshore Entertainment would co-produce the pilot with Lionsgate, the two parties behind the feature film.
The Lincoln Lawyer novelist Michael Connelly will be partnering with the film's screenwriter to create the pilot script that will revolve around the show's namesake, Michael "Mickey" Haller.
ABC's The Lincoln Lawyer would join NBC's The Firm in progressing from the page to the big screen and ultimately to the small screen. The Firm will premiere later this year.
Matthew McConaughey's name has not come up yet as starring in The Lincoln Lawyer television series. After his excellent work on the successful film as the talented lawyer who works from his car and does whatever it takes to win a case, it would be hard to imagine anyone else in the role.
Check out The Lincoln Lawyer on Blu-ray or DVD for a discounted price at Amazon.com.
Source: Variety