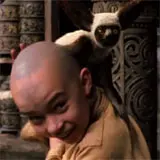 Paramount is sharing a new TV spot for M. Night Shyamalan's The Last Airbender at Facebook that reveals Momo the flying lemur for the first time.
The Last Airbender arrives in theaters on Thursday, July 1 in 2D and 3D viewing options. It was recently moved up a day after the studio's early test screenings were met with enthusiasm from audiences. Starring in the film are Noah Ringer, Jackson Rathbone (The Twilight Saga: Eclipse) and Dev Patel.
Watch the Momo TV spot here at Facebook.