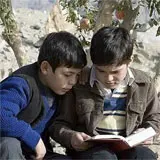 Dreamworks pulled the plug on The Kite Runner's HD DVD debut a little less than a year ago when the high-def format war came to a sudden close.
Presumably The Kite Runner was ready to go and now we're inclined to believe that with news Dreamworks will release Marc Forster's foreign drama on Blu-ray Disc on March 24.
The Kite Runner will be presented in 1080p video and 5.1 Dolby TrueHD audio.
All of the bonus features scheduled for the HD DVD release will see the light of day on Blu-ray. The theatrical trailer will be the lone extra offered in HD.
Commentary with Marc Forster, Khaled Hosseini and David Benioff
Words from The Kite Runner
Images from The Kite Runner
Public Service Announcement with Khaled Hosseini
Theatrical Trailer (HD)
The Kite Runner on Blu-ray is expected to retail for $29.99. Click through the disc details below to view high-res front and back cover art.