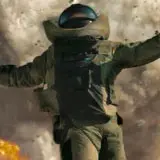 January 12 was already circled on our calendar as the day Sony delivers Moon on Blu-ray Disc and DVD. Now Summit Entertainment has chosen the same day to debut critically lauded atypical action film The Hurt Locker.
Kathryn Bigelow's film that follows a bomb disposal unit on the front lines in Iraq comes to Blu-ray in 1080p video and 5.1 DTS-HD Master Audio on a single disc.
Bonus features are relatively skimpy but hopefully pack a lot of punch in the form of an audio commentary with Bigelow and writer Mark Boal; a behind-the-scenes featurette; and an image gallery with optional Q&A from London audio in the background.
Online retailer Amazon.com has already begun taking pre-orders for The Hurt Locker on Blu-ray priced at $24.49. Click here to reserve your pre-order copy.