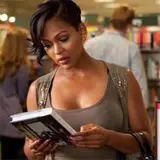 It was a tall order for Lionsgate's The Hunger Games to win its fourth consecutive weekend at the North American box office. The Nicholas Sparks weepy drama The Lucky One seemed the likely candidate to step up and assume the top position from Jennifer Lawrence and her fellow tributes. Yet it was Think Like a Man that stampeded into Friday and didn't stop until both The Hunger Games and The Lucky One were a couple steps behind.
Think Like a Man, based on Steve Harvey's self-help book Act Like a Lady and co-starring Meagan Good, drummed up $12.2 million in ticket sales on its opening day. With a solid overall "A" CinemaScore headed into the weekend, the Sony flick should knock on the door of $30 million – if not burst through it – by close of business Sunday.
The Lucky One and its star Zac Efron took second place on Friday with a more than acceptable $9.1 million debut. Looking back at previous Nicholas Sparks big screen adaptations, only Dear John with Channing Tatum opened better at $13.8 million. Look for The Lucky One to cross the $20 million mark through Sunday with relative ease.
Finally, The Hunger Games has been humbled with a third place finish entering its fifth week of release. Adding $4 million on Friday, the mega hit has accumulated $346.4 million in domestic ticket sales and has worked its way up to the 20th top grossing film of all time in North America. It should overtake Transformers: Dark of the Moon and its $352.4 million tally for the 19th position either Sunday or Monday.
The Disneynature release Chimpanzee swung into $3.5 million on Friday, good enough for a fourth place finish. Look for a weekend total somewhere around $10 million.
Capping the top five on Friday was The Cabin in the Woods with $2.5 million. The Joss Whedon-produced horror flick has now earned $21.7 million into the early stages of its second week of release. It should be a distant memory by the time Whedon's The Avengers assaults the box office in two weeks.
Stop back Sunday for the complete weekend box office studio estimates to see if Think Like a Man topped $30 million and The Hunger Games moved up a spot on the all-time list.