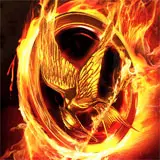 The Hunger Games will next play on Blu-ray and DVD as Lionsgate Home Entertainment via EW has announced a 12:01am August 18, 2012 release date for the smash hit starring Jennifer Lawrence, Josh Hutcherson and Liam Hemsworth.
The Blu-ray edition of The Hunger Games is a two-disc set that will also include a digital copy. Over three hours of bonus material are included featuring interviews, behind-the-scenes featurettes, an exploration of differences between the book and the film, the eight-part documentary 'The World is Watching: Making of the Hunger Games,' and a full-length version of the "Propaganda Film" seen briefly during the feature film.
Pre-orders for The Hunger Games on Blu-ray and DVD will commence this Friday, May 25. That date marks the 12-week mark until the retail release.
I'll pass along Amazon's pre-order link for The Hunger Games on Blu-ray as soon as it is live, as well as a comprehensive list of the bonus features and tech specs.
Watch The Hunger Games Blu-ray and DVD trailer over at EW.