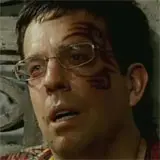 The Hangover Part II starring Bradley Cooper, Ed Helms, Zach Galifianakis, Ken Jeong, Jeffrey Tambor and Justin Bartha already proved lightning does strike twice at the box office, and will attempt to continue the franchise's success when it lands on Blu-ray and DVD on December 6.
Warner Bros. is only offering The Hangover Part II (or The Hangover Part 2 for those who prefer numbers) on Blu-ray in a combo pack configuration with DVD. The SRP on the set is $35.99. A DVD only edition is being sold individually with an SRP of $28.98.
I don't have the complete list of supplemental features to share at this time, but can confirm that The Hangover Part II on Blu-ray will include a gag reel and never-before-seen footage. There doesn't seem to be an unrated cut (yet), so that extra footage is likely being offered as deleted scenes.
Tech specs on the Blu-ray are 2.4:1 1080p video and 5.1 DTS-HD Master Audio.
Enjoy The Hangover Part II Blu-ray cover art below, and be on the lookout for a future update to this article adding Amazon's pre-order link and the complete suite of extras. For those of you who saw The Hangover Part II theatrically, I've included a music video below the cover art for the song from the film that you'll have a hard time getting out of your head. You've been warned.