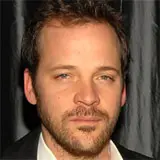 Warner's big budget production of The Green Lantern may have found its villain in Peter Sarsgaard, a tenured actor accustomed to appearing in smaller films.
Sarsgaard is currently in negotiations to play Dr. Hector Hammond, a pathologist who gains psychic powers after coming into contact with a meteor. Ryan Reynolds has been on board for some time to play Hal Jordan aka The Green Lantern.
For Sarsgaard, The Green Lantern could be the film that makes him a household name. He will next be seen in Knight and Day opposite Tom Cruise and Cameron Diaz.
Also signed is Gossip Girl Blake Lively as Carol Ferris, Jordan's love interest.
The Green Lantern kicks off principal photography this March in and around New Orleans, Louisiana.
Source: THR