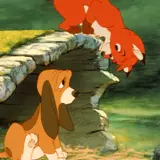 Disney is coupling The Fox and the Hound and its sequel, The Fox and the Hound II, in a 2-movie Blu-ray Disc collection with an August 9, 2011 release date. Note that this is the same day Disney is releasing Mars Needs Moms on Blu-ray for the first time.
The three-disc 30th anniversary package will contain each Fox and the Hound film on Blu-ray (disc one) and on DVD (disc two and three). Both films will be presented in their original aspect ratios of 1:66:1 and 1:78:1, respectively, as well as 5.1 DTS-HD Master Audio.
The following bonus features will be spread across all three discs:
"Unlikely Friends" — A Fun, Fascinating Collection Of Stories About Surprising Friendships Within The Wild Animal Kingdom
Passing The Baton: The Making Of THE FOX AND THE HOUND Featurette
"The Best Of Friends" Sing-Along Song
The Making Of The Music — Behind-The-Scenes Featurette
"You Know I Will" Music Video Performed By Lucas Grabeel
Look below for the official Disney The Fox and the Hound Blu-ray trailer as well as the final cover art.
Pre-order The Fox and the Hound 2-Movie Collection on Blu-ray for $27.99 at Amazon.com, 30% off the $39.99 list date.