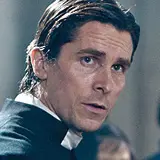 Director Yimou Zhang's Golden Globe-nominated foreign language film The Flowers of War starring Christian Bale (The Dark Knight Rises) and Ni Ni is coming to Blu-ray and DVD on July 10.
Bale stars as an American mortician trapped in China during a war between the Chinese and Japan in 1937. He takes shelter with thirteen courtesans and a group of schoolgirls within a convent, ultimately deciding to protect them from the horrors inflicted by the Japanese as they continually visit in search of young girls to rape.
The Blu-ray edition of The Flowers of War will include a five-part feature length "making of" documentary. No other bonus features or tech specs are known at this time.