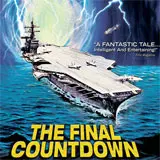 We've been informed by Blue Underground that the October 28 release date for The Final Countdown, what will be the studio's first ever Blu-ray Disc title, has been pushed back one week to November 4.
The reason for the date change stems from a "manufacturing delay," not uncommon for a studio's first venture into a new software product. Production should hopefully move more smoothly with future releases.
As a refresher, Blue Underground is going all-out with their films on Blu-ray including 1080p transfers and both 7.1 DTS-HD Master Audio and 7.1 Dolby TrueHD audio tracks. Select films like The Final Countdown will also come packaged with D-BOX Motion Code.
The full list of supplementals featured on The Final Countdown on Blu-ray are as follows.
Audio Commentary with Director of Photography Victor J. Kemper
Lloyd Kaufman Goes Hollywood – Interview with Associate Producer Lloyd Kaufman
Starring the Jolly Rogers – Interviews with The Jolly Rogers F-14 Fighter Squadron
Theatrical Trailers
TV Spots
Enhanced for D-Box Motion Control Systems
Click here to pre-order The Final Countdown on Blu-ray for $22.95 from Amazon.com.