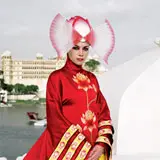 Multiple online retailers have begun taking pre-orders for Sony Pictures Home Entertainment's The Fall on Blu-ray Disc, stating a September 9 release date.
The Fall was released in a limited theatrical run in May 2008. It is a critically acclaimed adult fairytale from Tarsem Singh, who directed The Cell. The story follows a little girl into a hospital where she is told stories by an aged man roommate about fantastical heroes who live in far off exotic places.
The Fall is expected to be presented in widescreen 1.85:1 1080p video and 5.1 Dolby TrueHD.
Supplemental features should be revealed when Sony makes an official announcement.
The Fall on Blu-ray will carry an SRP of $38.96.
Click here to pre-order The Fall on Blu-ray for $26.95 from Amazon.com.