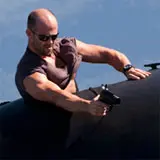 The Expendables went up against five new films for the top spot at the box office on Friday and narrowly came out ahead of them all.
Sylvester Stallone's actioneer brought in an estimated $5 million on Friday with the closest competition, the Twilight spoof Vampire's Suck, not far behind at $4.4 million. Even so, neither film is on pace to break $20 million through Sunday and may even struggle to reach $15 million.
None of the new films including Lottery Ticket, Piranha 3D, The Switch, Nanny McPhee Returns along with Vampires Suck are on pace to break $15 million their opening weekend. That's all she wrote for the summer movie season. The fall box office doldrums have officially begun.
Check back tomorrow for the complete weekend box office studio estimates.