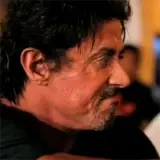 Shooting down in Brazil recently wrapped on The Expendables which loosely translates to us being privy to some new behind-the-scenes footage courtesy of Ethelmae's Blog.
The footage you see below is a mix of Sly in work mode and Sly in ladies man mode. In the former he whips fires a gun and then whips it around in the direction of crew who look like they're about to soil themselves. There's a really pretty big bang explosions to boot.
The latter follows Sly down a street lined with screaming women. Things get crazy when a couple women break through a give Sly a big old bear hug prompting security to take action. And then, to be continued.
The blog goes on to promise The Expendables teaser posters for the Cannes Film Festival is coming soon which I'll share as soon as it's revealed