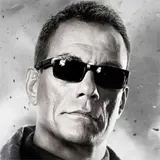 The Expendables 2 starring Sylvester Stallone and his geriatric crew of action stars withheld Whitney Houston's final performance, a ghostly animated adventure in ParaNorman and spy thriller holdover The Bourne Legacy to easily secure the top spot at the North American box office on Friday. The Expendables 2 already has a guaranteed lock on winning with the weekend, while ParaNorman and Sparkle are set to battle for third place.
Sylvester Stallone was joined by pals Arnold Schwarzenegger, Jason Statham, Bruce Willis, Dolph Lundgren, Jet Li, Chuck Norris, Terry Crews, Randy Couture, Jean-Claude Van Damme, and relative youngins Nan Yu and Liam Hemsworth in the sequel to the testosterone-filled The Expendables with hopes of recapturing the original's success. The sequel earned $10.5 million on Friday, which puts it on pace to finish the weekend somewhere between $25 and $30 million.
Compared to the original, The Expendables 2 is coming up a little bit short. It's opening day is off 21 percent from The Expendables which debuted to $13.3 million. That film went on to earn $34.8 million during its opening weekend and went on to earn $103 million when all was said and done.
The Bourne Legacy saw its box office legacy take a direct hit in its second weekend of release. The Jeremy Renner-starrer plunged 62 percent with $5.3 million, a big blow to the film's prospects of running much higher than $100 million during its theatrical run. Right now it stands at $57.9 million and should be around $67 million through Sunday.
Paranorman and Sparkle put up a fight for third place with the animated film topping the well-received drama by a miniscule margin of $4.56 million to $4.5 million. Paranorman will likely get a weekend boost from family matinees, while Sparkle is expected to ride its "A" CinemaScore rating to bigger audiences. It's a toss up on who will claim third through Sunday.
Rounding out the top five on Friday was The Campaign with $4.2 million and a total of $42.5 million overall.
Stop back Sunday for the complete studio weekend box office estimates to see how much The Expendables 2 was able to win its opening weekend by.