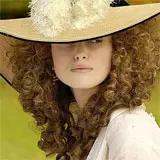 Earlier today we announced Paramount has confirmed Ghost Town is coming to Blu-ray Disc on December 28, a Sunday. Now you can add The Duchess starring Keira Knightley as Duchess of Devonshire for a Blu-ray bow the same date.
Paramount will present The Duchess in 1080p video and 5.1 Dolby TrueHD audio.
Blu-ray and DVD will share identical extra features, all of which are detailed below.
How Far She Went… Making the Duchess – A fascinating documentary featurette explores the life of Georgiana Spencer Cavendish and the era that she came to define.
Georgiana In Her Own Words – Amanda Foreman, author of the award-winning biography Georgiana, Duchess of Devonshire, and producer Gabrielle Tana hold a roundtable discussion at the archive of Chatsworth House—home of Georgiana and her family—reviewing letters, diary entries and artifacts that helped shape the historical landscape of Foreman's biography, the inspiration for The Duchess.
Costume Diary – A darling of high society and a fashion trendsetter, the Duchess was well known for her extravagant wardrobe. Costume designer Michael O'Connor talks about creating the outlandish and beautiful costumes that would become some of the film's most flamboyant characters.
Theatrical Trailers
The Duchess on Blu-ray will retail for $29.99.
Click here to pre-order The Duchess on Blu-ray at Amazon.com.