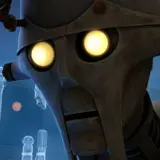 Finally, some Star Wars news has come out of Lucasfilm that doesn't involve Disney, Episode VII, or tired Mickey Mouse jokes.
Dr Who vet David Tennant was recruited by Star Wars: The Clone Wars showrunner Dave Filoni to lend his voice as a brainy droid named Huyang that serves as the keeper of lightsaber designs, technology and construction knowledge. "I thought David was perfect for the part and he did not disappoint," remarked Filoni about the premise. "He delivered a performance which impressed even the Master himself, George Lucas."
Tennant's episode, 'A Test of Strength,' premieres this upcoming Saturday morning on the Cartoon Network at 9:30am/8:30c. Watch a clip of Tennant's digitally enhanced voice at work as Huyang in the Clone Wars preview clip below.
Source: EW