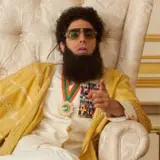 Sacha Baron Cohen (Borat), Anna Faris and Paramount might have had high hopes that countless appearances and publicity stunts by Cohen in his Admiral General Aladeen persona, coupled with the first teaser trailer debut for Anchorman 2, would boost The Dictator's opening day box office. Whether it did or not failed to faze The Avengers which continues to Hulk smash the competition with relative ease.
The Dictator opened on just over 3,000 screens to $4.17 million on Wednesday, its first day in theaters. That total includes around $600,000 from midnight screenings on Tuesday night.
Normally over $4 million sandwiched between weekends is good enough for first place, but not when Iron Man and pals are still at work. The Avengers muscled up another $6.33 million on Wednesday to bring its domestic total to a whopping $395.8 million. The $400 million mark will fall either Thursday or Friday, and then the march to half-a-billion dollars will commence.
Johnny Depp in Dark Shadows took third on Wednesday with $1.84 million, bringing its total to $36.44 million. That's definitely on the low side for a Depp and Burton pairing. Look for Dark Shadows to make a mad dash for Blu-ray and DVD where sales and rentals are likely to be strong.
Sony's Think Like a Man continues to impress with $380,482 on Wednesday for $82.81 million total, while The Hunger Games keeps finding an audience with $376,509 to bring its overall ticket sales to $388.24 million.
This upcoming weekend, Sacha Baron Cohen is positioned to not only get blasted by The Avengers, but also get sunk by Universal's Battleship in its big debut. When all is said and done, look for The Avengers to handily win its third consecutive weekend at the box office.