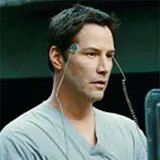 Last December's release of the original 1951 The Day the Earth Stood Still on Blu-ray Disc presented viewers a 7-minute clip from the new remake before reaching the menu screen. It's only fitting the remake's arrival on Blu-ray returns the favor to its inspiration.
Fox Home Entertainment has announced The Day the Earth Stood Still remake starring Keanu Reeves as Klaatu and Jennifer Connelly will be released on Blu-ray Disc April 7 in a three-disc set.
The first disc will include the feature film and bonus features and the second a digital copy. While you might think the third includes a standard DVD version of the film like Fox is including with Marley & Me as announced earlier today, you'd be wrong.
That third disc is the complete 1951 original film on Blu-ray sans bonus features. The DVD versions will also include the original film packed in with the remake. This "value added" proposition is scheduled to last for a limited time only.
Fox is presenting The Day the Earth Stood Still on Blu-ray in its original 2.35:1 aspect ratio in 1080p video and 5.1 DTS-HD Master Audio. Though not confirmed, we expect to see D-BOX support either on the disc or available for download at a later day.
Two of several bonus features are exclusive to Blu-ray including a BD-J GORT game as a followup to the game available on the original film's Blu-ray release.
Klaatu's Unseen Artifacts: The Day The Earth Stood Still Picture-In-Picture Track (BD exclusive)
"Build Your Own GORT," BD-Java Game (BD exclusive)
Deleted Scenes
Re-Imagining "The Day" Featurette
Unleashing Gort Featurette
Watching The Skies: In Search Of Extraterrestrial Life Featurette
The Day The Earth Was "Green" Featurette
Commentary By Writer David Scarpa
Still Galleries

Concept Art
Storyboards
Production Photos

Digital Copy
The Day the Earth Stood Still on Blu-ray will set you back around $27 or so based on the $39.99 retail price. View high-res cover art through the disc details below, and an Amazon.com pre-order link should be available shortly.